The
Sherman House Museum
in Lancaster, Ohio, is the birthplace of General William Tecumseh Sherman, his younger brother U.S. Senator John Sherman and home of the remarkable Sherman family. The Sherman House is listed on the National Register of Historic Places, Civil War Preservation Trail and has been a memorial to the family since 1951. It, along with Georgian Museum, is owned and operated by the Fairfield County Heritage Association.

The original frame home built in 1811 consists of a parlor/dining room, kitchen, master bedroom and children's bedroom. The Sherman family added onto the house in 1816, including a parlor and study for (father) Judge Charles Sherman. All of these rooms have been restored to look as they would have when the Sherman's lived here. A brick front was added to the house in 1870 and this victorian parlor is furnished almost completely with furniture owned by the General and Ellen Sherman when they lived in New York City after his retirement. It includes a parlor set originally owned by General Ulysses S. and Julia Grant. One upstairs bedroom houses family memorabilia, another is a re-creation of General Sherman's Civil War field tent which contains several items that he used during the war and a sound and light presentation depicting his passion for the Union. The last room you will visit houses an excellent exhibit of Civil War artifacts, guns and GAR memorabilia.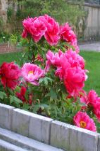 MUSEUM LOCATION:
Sherman House
137 East Main Street (parking details)
Lancaster, Ohio 43130
Phone: 740-687-5891 or 740-654-9923

TOURS:
Wednesday - Sunday
Tours begin at noon, 1:00pm, 2:00pm, and 3:00pm.
Group tours (12+ people) can be scheduled for Tuesdays (10:00am - 3:00pm) or Saturdays (10:00am - noon).


COVID RULES:
If you are experiencing signs of illness — if you have a cough, difficulty breathing, fever etc, — or if you have recently had contact with a person with Covid-19, please do not enter the museum at this time.
Face masks are encouraged. Single use masks are available for a $1 donation.
The number of guests inside the museum, at any one time, is limited. If you have more than 12 people in your group, please call our office at 740-654-9923 to arrange your tour. Discounts are available to large groups that book and pay for their tour in advance.
ADMISSION
:
Adults $6 / Students under 18, $2
Admission fee includes guided tour.
Tour both museums and receive discount.
AAA, Senior 65+ and South Central Power Customer Discounts offered.
Active Duty Military Personnel with ID - FREE Admission.
FCHA Members - FREE Admission.
First floor handicapped accessible.
DVD tour available for second floor.
PURCHASE TICKETS ONLINE