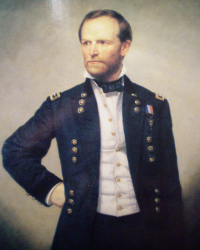 The Story of
General William T. Sherman
General William Tecumseh Sherman is best remembered for his leadership during the Civil War. Beginning with the battle at First Bull Run, Virginia (July 1861), he led troops through Shiloh, Corinth, Vicksburg, Chattanooga, Atlanta, the March to the Sea (November & December 1864), and Columbia, South Carolina. In Durham,North Carolina, he remembered Lincoln's instructions, "Let them up easy," when he offered Confederate General Joe Johnston lenient terms of surrender on April 26, 1865. After the war he campaigned for early reconciliation with the South. In 1869 he became Commanding General of the Army, a post he held until he retired in 1883. He refused to run for the presidency several times, saying, "If nominated I will not run; if elected I will not serve."

General Sherman was born February 8, 1820, and named William Tecumseh after the great Shawnee leader. He was the sixth of eleven children born to Judge Charles and Mary Hoyt Sherman. As a child he was nicknamed "Cump" and it stuck for the rest of his life. His father died in 1829, and because of financial problems, he was sent to live with the neighboring Thomas Ewing family. He graduated from West Point in 1840 and married Ellen Ewing in 1850. They had eight children, four boys and four girls. He died in 1891, while living in New York City, but is buried in St. Louis, where he and his wife maintained a home much of their married lives.
• Outstanding Civil War collection
• Sherman at War exhibit
• Re-creation of Sherman's Civil War field tent
• Weapons and Veterans exhibits
• Local, State, and National artifacts
• Numerous portraits and photographs
• Sherman family memorabilia
• Birthplace and childhood home of General
William T. and U.S. Senator John Sherman
• National Historic Landmark
• Original frame home built in 1811
• Furnishings reflecting the lifestyle of the
remarkable Sherman family
• Victorian addition features furniture owned by General and Ellen Sherman

• General William Tecumseh Sherman,
celebrated Civil War leader
• U.S. Senator John Sherman, noted statesman
• Ohio Supreme Court Judge Charles Sherman, father of William, John and nine other siblings
William Tecumseh Sherman - The Lancaster Years
General Sherman was born February 8, 1820, and named William Tecumseh after the great Shawnee leader but acquired the nickname "Cump" from his siblings. He was the sixth of eleven children born to Judge Charles and Mary Hoyt Sherman.

The Sherman's were well educated and highly cultured by Lancaster standards at this time. Charles was a sixth generation attorney and Mary was a graduate of the Sketchley Finishing School. The children received strict guidance and direction regarding manners, education and high moral values. Life in Lancaster was good for children. Cump always received good grades while attending the Lancaster Academy and even more important, was exposed to intellectual conversation from his parents and from the travelers who visited them.

Although his father's Supreme Court position kept him from home often, Cump led a fairly normal, happy childhood. He had many friends and the vacant lot between the Sherman house and the Ewing's next door was a natural playground for the neighborhood youth. Sharing, patience, compromise and getting along were attributes he learned from growing up with a large family and a large group of friends. His parents enrolled him and the other older children in a private school for dance and other forms of the arts which stayed with Cump all of his life.

At the age of nine, Cump's world turned upside-down due to the untimely death of his father. For financial reasons his mother sent several of the children to live with friends and relatives. Cump was sent to live with the Ewing family whom he knew quite well but life would never be the same. Having been a foster child herself, Mrs. Ewing was very sensitive to his needs and the trauma surrounding his family at this time. Cump adjusted to the Ewing family, and although he saw his mother frequently, he remained conscience of his awkward situation.

Tall for his age but very thin and wiry, at thirteen years old, he got his first job working on the lateral canal being dug through Lancaster. Another summer he spent with his foster brother Phil Ewing on the farm of a Ewing relative outside of town. Although farm work was hard, he learned how and why things grow and he looked at land differently for the rest of his life.

Thomas Ewing had become a powerful United States Senator and had a West Point Academy appointment at his disposal. He felt Cump would do well at West Point and had the makings of a soldier. Also, understanding the value of an education, he told Cump to bone up on math, Latin and foreign language to prepare himself for schooling at the academy. Of Cump's youth Ewing wrote, "I never knew so young a lad who would do an errand so correctly and promptly as he did. He was transparently honest, faithful and reliable, studious and correct in habits."

Even as a youngster, Cump appreciated all of the things the Ewings had done for him but it was imperative that he prove to himself, to Thomas Ewing and to the world that he could succeed on his own. Even though he had two families, neither was in a position to satisfy all of his needs. At the age of sixteen Cump left home carrying many unmet needs and insecurities with him to the Military Academy at West Point. This was his first step toward independence!
Charles Sherman
Mary Hoyt Sherman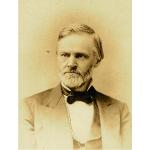 John Sherman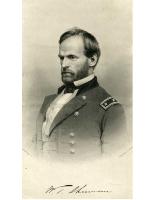 William T. Sherman